Last blog articles
Blog archives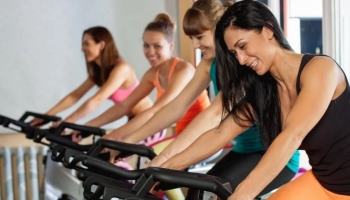 SPINNING BIKE
SPINNING BIKE HOME EXERCISES
Have you already bought your favorite spinning bike? It's time to get in shape! Discover in this article the basic tips to start doing spinning exercises at home and also some simple routines to increase the pace little by little. Training with an indoor cycle is simple if you know how ... Follow our advice and start exercising right away and without having to go to the gym !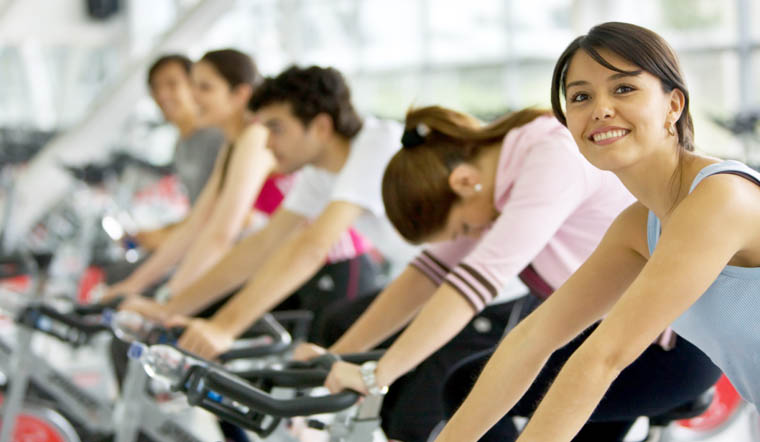 When you bought your own spinning bike, you probably weren't sure where to start. .. It is not the same to train in the gym than at home, and we know that, for this reason, today we are addressing you, a spinning beginner eager to achieve great physical results . We present you some tips to start exercising on your spinning bike at home and we show you some easy workouts to start burning calories and tone your figure well.
EXERCISE ON YOUR SPINNING BIKE OR INDOOR CYCLE: FIRST STEPS
Before you start pedaling spinning bikes at home , it is very important to take into account certain tips that will help you prepare before exercise . You have to look at certain details and issues before pedaling. Do you want to start your routines properly and safely? Discover these 3 essential tips before launching your spinning bike at home .
1. TAKE THE RIGHT POSTURE
Before you start pedaling, make sure you are in a comfortable and correct posture ; Your back should be straight or curved as little as possible, in order to avoid feeling discomfort or pain after your exercise session. It is also important to wear a comfortable shoe and place your feet on the pedal straps, adjusting them to improve grip.
2. PREPARE EVERYTHING NEEDED, USE THE EXTRAS FROM YOUR INDOOR CYCLE
For a spinning session at home to be effective, you must have several practical elements nearby that will promote an intense and uninterrupted workout . Spinning or indoor cycling bikes have bottle holders where you can place a drink such as water or an isotonic soda; In addition, you will need a towel , which you can place on the handlebar or in a place that is within easy reach. If you want to enjoy a fun or entertaining bonus, you can place your mobile or tablet on the mobile device support to enjoy a series or movie, a recorded class, and even listen to your favorite music and in this way, you will feel more motivated.
3. ADJUST THE RESISTANCE AND PLAN YOUR TRAINING TIME
To finish your preparation, you just need to regulate the resistance of your spinning bike and decide for how long you are going to pedal and at what intensity level. We advise you to adjust the resistance to a minimum the first few times in order to familiarize yourself with your home gym machine and complete a workout of between 5 and 10 minutes a day. Over time, you will improve your lung capacity and it will be you who decides if you should increase the level and the daily time.
Everything is ready to start training! Enjoy your first few times doing simple and easy routines , ideal for familiarizing yourself with your home gym machine and getting your muscles used to exercises. We give you some ideas below!
4 EXERCISES AT HOME ON YOUR SPINNING BIKE VERY EASY AND EFFECTIVE
Having seen the first TIPS to accommodate you on your new spinning bike or indoor cycle , we bring you some easy exercises that can help you start your spinning routines . As you get more resistance and experience, you will be able to increase the degree of difficulty of your workouts, however, to achieve results it is only necessary to be constant and perform each routine correctly. Shall we start? Take note of these 4 exercises that you can follow on your own spinning bike at home!
This exercise is basic. It consists of sitting on the spinning or indoor cycle bike and pedaling continuously and at intermediate resistance , without interruption, for at least 7 minutes. You should place your feet on the pedals and your hands on the handlebars to get the proper starting position. The purpose of this simple exercise is to warm up your muscles and burn as many calories as possible in a short time. When you've gotten used to it, you can increase the resistance and pedal even faster. The biggest challenge you can set for this exercise is to pedal at 30 meters per minute . Do you dare to get it?
EXERCISE 2 - FOOT PEDALING:
In spinning classes in gyms this is a very common exercise ; You should go from sitting to standing (without stopping pedaling) and standing while continuing to pedal for a few minutes, say 5-10 minutes. This exercise is great for strengthening your arms, legs, and glutes .
EXERCISE 3 - AT INTERVALS:
To make your routines more entertaining, you can do a mixture of both exercises , that is, you can do 2 minutes of seated pedaling at low intensity and 1 minute of standing at full speed , and repeat the process for a total of 10 minutes. In this way, you exercise your whole body on your spinning bike or indoor cycle , burn a lot of calories and gain more resistance.
Do you want to work your glutes a little more? We have an exercise that you can incorporate into your spinning bike routines at times of lower intensity ... Take note! When you are pedaling at a low pace and sitting down, you can make small jumps continuously on the saddle of your spinning bike at home . This original exercise will strengthen your glutes and allow you to complete your daily workouts.
In our online store you can buy your favorite spinning bike! Still not a homemade spinner? Don't think twice and take a step towards a healthier and happier life . Enjoy exercising daily and keep your body in shape throughout the year. Discover all our spinning bikes for home on our website and buy the one that best suits your needs.
Share this content