Air Bike InBody Titan
AirBikeInBodyTitan-301-Negro
The high-end InBody Titan Air Bike has become part of the training of professional and semi-professional athletes. The main feature of this air bike that makes it so special is its flywheel with air resistance generated by a fan, which is integrated in it. This provides a complete training experience, since the higher the pedalling, the more intense the resistance.
THE AIR BIKE OR CROSSFIT BIKE
that experts recommend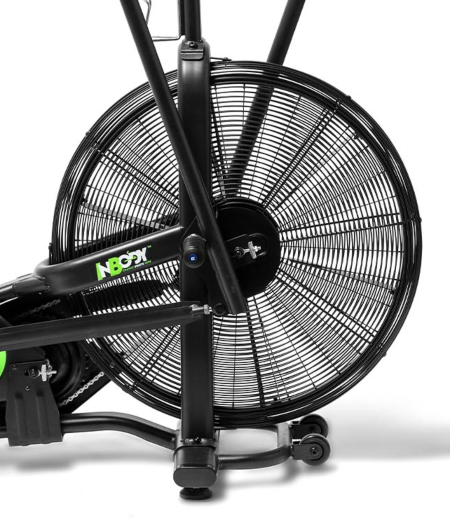 A fan
as a front wheel
The 70 cm diameter fan works as an air resistance system that adapts to the training you wish. The more force you put into pedalling, the more resistance you will feel.
Bluetooth connection
compatible with different apps
This device allows you to select programmes and monitor your exercise using different apps. It works with the KINOMAP application, compatible with IOS and Android.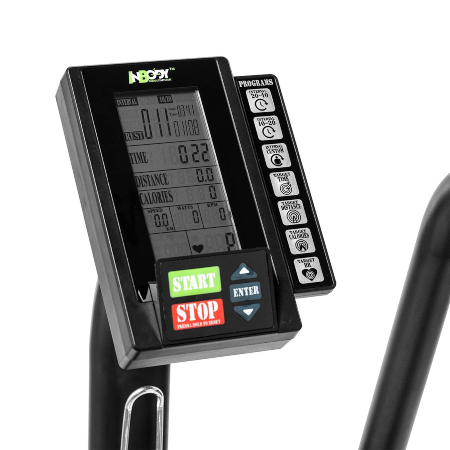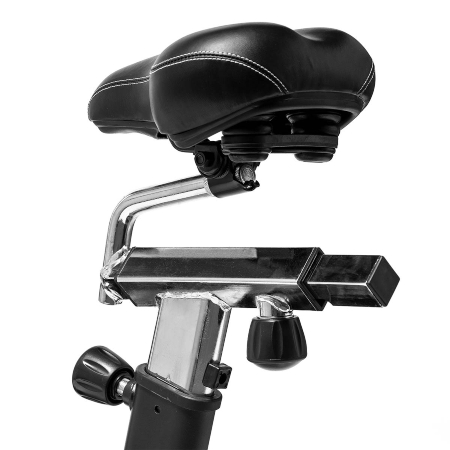 Ergonomic saddle
with vertical and horizontal adjustment
This saddle can be adapted to any type of figure. Thanks to its ultra-padded design, exercise is very comfortable.
The high-end InBody Tintan Air Bike, perfect for professional training
This indoor air bike has a fan wheel that functions as a resistance regulator during training. It is made of high quality galvanised steel and has a very strong and stable structure. It has built-in front wheels for easy transport. It also has an ergonomic saddle, adjustable in height and position, and two padded grip handles that allow a double action exercise, moving the arms to the rhythm of pedalling. The aluminium pedals are very resistant,  offering maximum safety during exercise. The indoor InBody Titan Air Bike has an LCD screen with different programmes and a Bluetooth system to connect to different apps, compatible with Android or IOS. Of course, it has practical extras such as a bottle holder and a holder for mobile devices.
Data sheet
Model: InBody Titan
Materiales de fabricación: Acero galvanizado
Handlebar: Ultra acolchado con dos asas de agarre
Display: LCD display with speed, time, distance and calories burned
Pedals: -
Maximum user weight: 150 kg
Weight of the bike: 48 kg
Dimensions of the bike: 115 x 60 x 162,6 cm
Tipo de resistencia: Resistencia por aire
Transmission system: Avanzado sistema de transmisión ultra silencioso con cadena
Bottle holder: Yes
Transport wheels: Yes
Mobile device holder: Device holder for tablet and mobile
Bluetooth and APPs: Yes
Reposapiés: Dos reposapiés antideslizantes laterales
Frecuencia de uso: Hasta 30 horas/semana
Fuente de alimentación: 2 pilas AA (no incluidas)
Assembly (difficulty): Easy
Dimensiones del paquete: 126,5 x 32 x 87 cm
¿Qué dicen de Air Bike InBody Titan?
3 review(s)