Spinning bike Exercise Bike
This spinning or indoor bike is perfect for semi-professional workouts at home. This model provides great stability and safety to the user for the best sports training.
SPINNING BIKE
ideal for training at home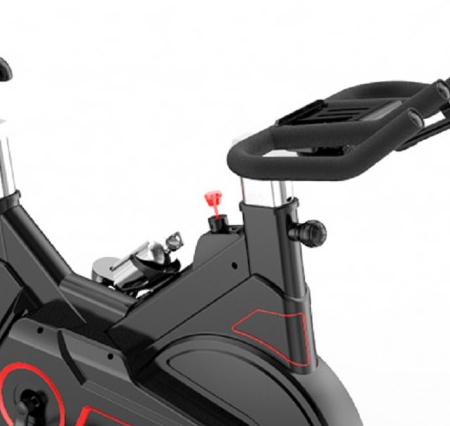 Resistance adjustment knob
with quick braking system
The resistance adjustment knob is of unlimited tension and offers a magnetic braking system. You can adjust the resistance of your workouts by turning it in the convenient direction.
Ultra-quiet
drive system
The transmission on this spinning bike is belt-driven. This system offers a quiet and smooth pedaling. In addition, the belt is strong and durable.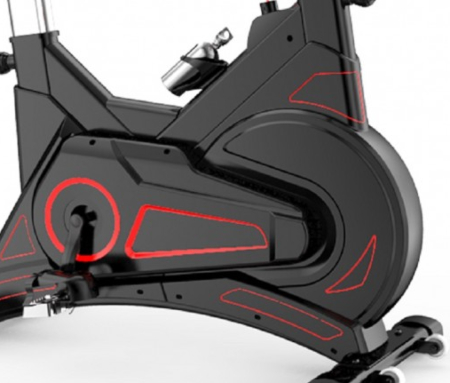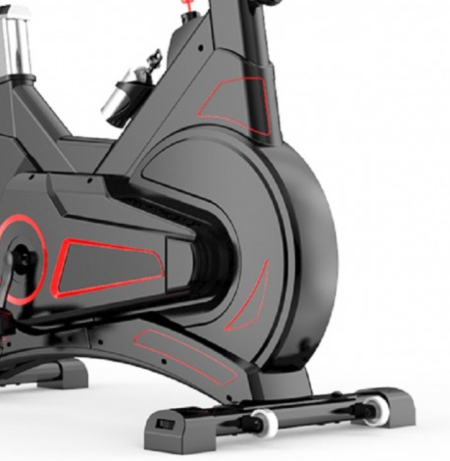 24 kg
flywheel
This element connects directly to the transmission and determines the resistance and smoothness of the pedalling. With this bike, equipped with a 24kg flywheel, an optimal workout is guaranteed.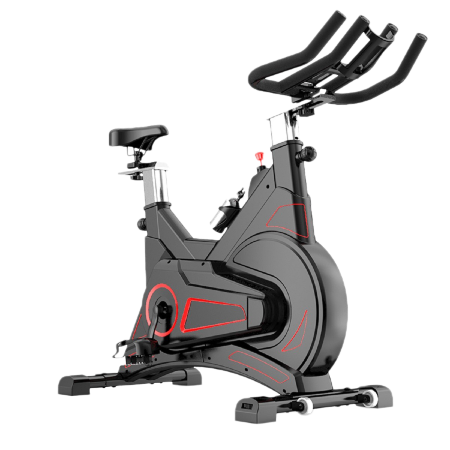 The QM 300 spinning bike is very sturdy and stable with everything you need to train at home
The QM 300 spinning bike is a modern and ergonomically designed gym machine for home. It is made of high quality materials and the steel frame is very strong. The saddle and handlebars are adjustable in height, and the saddle can also be adjusted horizontally. Both saddle and handlebars are padded and ergonomic, and the saddle offers the greatest comfort to the user thanks to its anti-prostatic design. It offers an ultra-quiet belt drive system and a 24 kg flywheel. In addition, it has an unlimited tension adjustment knob with quick braking system and LCD screen to monitor exercise sessions by measuring speed, distance, calories burned, time and pulse. The handlebar has an integrated heart rate monitor. It also offers practical extras such as a bottle holder, a holder for mobile devices and adjustable straps on the pedals.
Data sheet
Model: QM 300
Frame:
Handlebar: Padded, adjustable and ergonomic
Saddle : Ultra padded, ergonomic, anatomical, antiprostatic and adjustable in height
Display: LCD display with calories burned, elapsed time, distance traveled in km and speed
Heart rate sensors: Yes
Resistance: Manually adjustable
Brake system: Magnetic
Flywheel:
Pedals: With adjustable straps
Maximum user weight: 120 kg
Weight of the bike:
Dimensions of the bike:
Plegable: No
Transmission system: Ultra silent belt driven
Bottle holder: Yes
Transport wheels: Yes
Mobile device holder: Device holder for tablet and mobile
Bluetooth and APPs: No
Frecuencia de uso:
Fuente de alimentación: 2 pilas AA (no incluidas)
Assembly (difficulty): Easy
¿Qué dicen de Spinning bike Exercise Bike?
2 review(s)