ATAA Power 200 - Spinning bike
bici-spinning-power200-negro
The ATAA Power 200 spin bike is equipped with everything you need for training at home. It is prepared to offer daily spinning sessions of high and low intensity. Change your lifestyle and start doing sport comfortably at home, there is no need to go to the gym!
SPINNING BIKE
perfect for exercising at home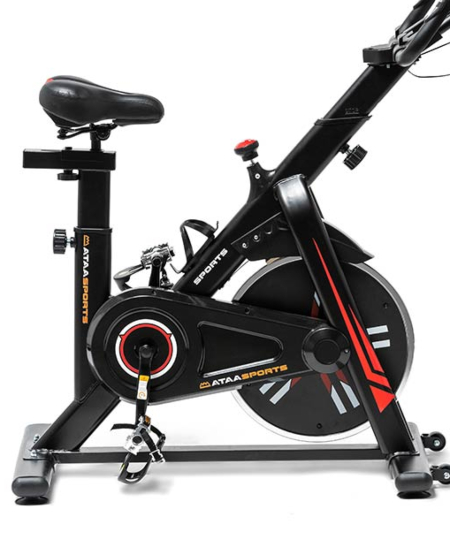 Ergonomic design
with a lightweight structure
It is designed to adapt anatomically to all kind of people. In addition, it offers a lightweight structure that makes transport easy.
Ergonomic
anti-prostatic and adjustable saddle
The saddle is designed to adapt to any body shape. It has been designed with a hole in the centre of the saddle, making it anti-prostatic in order to avoid any pain in men.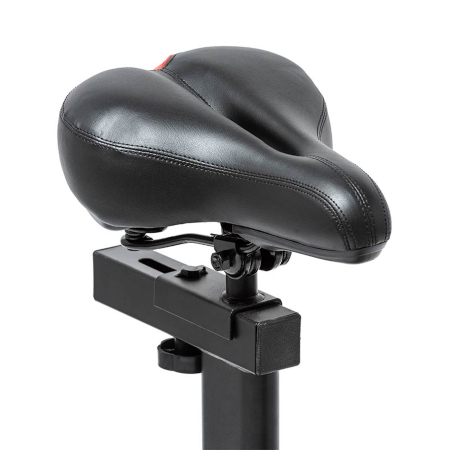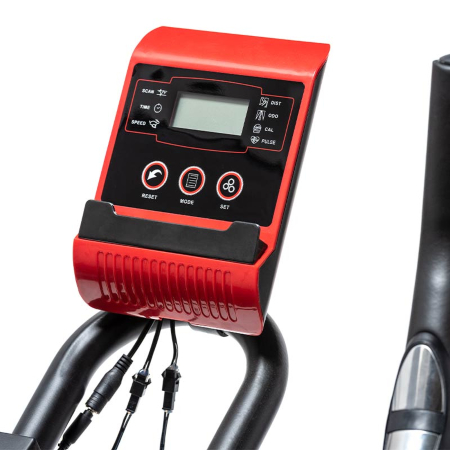 LCD display
to monitor exercise
Workout data can be monitored in real time thanks to the LCD displauy.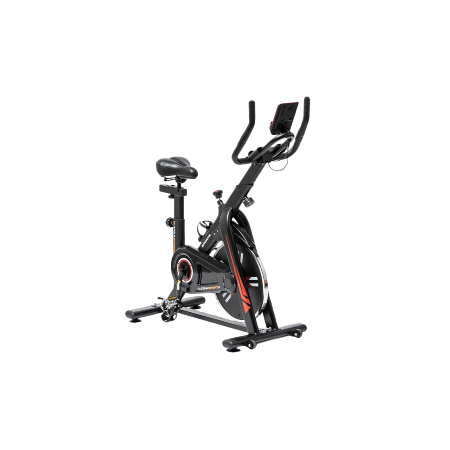 ATAA Power 200 spin bike, ergonomically designed and easy to transport
The ATAA Power 200 spin bike has ergonomic, adjustable and padded handlebars and saddle. This indoor cycle has an ergonomic design and is very light, which offers total comfort during training. The wheels at the front make it very easy to transport the bike. The exercise will be monitored on the LCD display with all the necessary data such as: calorie burn, distance covered or speed. In addition, a cardio heart rate monitor is integrated in the handlebars. It is very well equipped with basic accessories and useful extras, such as a tablet or mobile phone holder, bottle holder and adjustment straps on the pedals.
Data sheet
Model: ATAA Power 200
Frame: Lightweight and resistant steel
Handlebar: Padded, adjustable and ergonomic
Saddle : Padded and cushioned, ergonomic, anti-prostatic, adjustable in height and length (position)
Display: LCD display with speed, distance covered, calories burned and heart rate
Heart rate sensors: Yes
Resistance: Manually adjustable
Brake system: Mechanical
Flywheel: Silent
Pedals: With adjustable straps
Maximum user weight: 150 kg
Weight of the bike: 23 kg
Dimensions of the bike: 93 x 51 x 120 cm
Transmission system: Ultra silent belt driven
Bottle holder: Yes
Transport wheels: Yes
Mobile device holder: Device holder for tablet and mobile
Bluetooth and APPs: No
Frecuencia de uso:
Assembly (difficulty): Easy
¿Qué dicen de ATAA Power 200 - Spinning bike?
1 review(s)