Elliptical cross trainer InBody Titan E1
Bici-Elipt-InBody-Titan-E1-Negro
The InBody Titan E1 cross trainer is a top of the range semi-professional elliptical trainer with everything you need to complement high performance workouts and improve personal bests. Strengthen your physical endurance by exercising daily at home with this cross trainer with unbeatable features.
CROSS TRAINER
perfect for high intensity exercise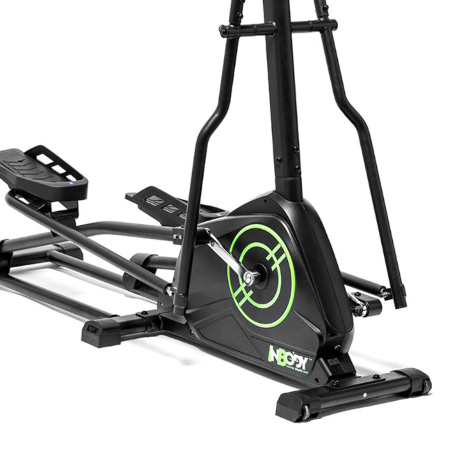 Silent magnetic
brake
This system works by means of two magnets that approach the flywheel to brake it.
Multifunction LCD
screen
This screen displays data in real time to monitor the pace of your activity at all times. In addition, it offers 24 different training levels to adapt the intensity of the exercises.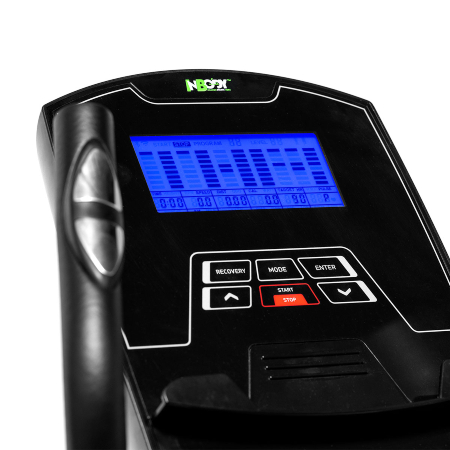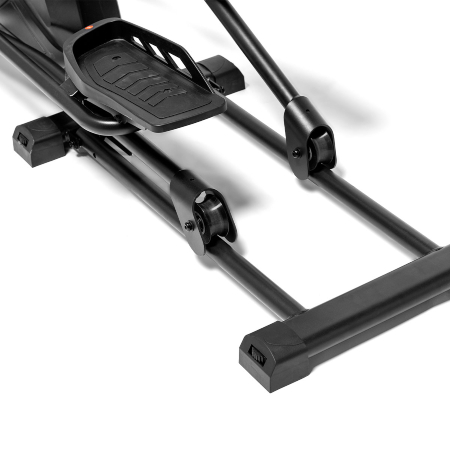 Ultra-quiet
drive system
The transmission system on the cross trainer is the connection mechanism between the pedal platforms and the flywheel.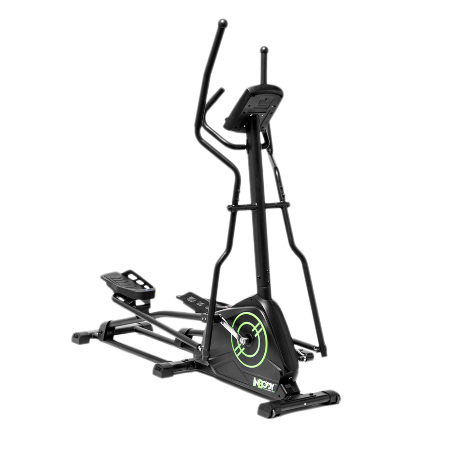 The InBody Titan E1 cross trainer is ideal for semi-professional training and to reinforce your physical preparation
This cross trainer has a galvanised steel structure that makes it very resistant, strong and stable. The Titan E1 elliptical trainer has an LCD screen with 24 different levels to adapt the intensity of the workout to your needs. In addition, it features real-time data to monitor your activity such as: time, distance, speed and calories burned. It also has padded handlebars with built-in heart rate monitor. The 8 kg flywheel is located at the front of the cross trainer. It also has an advanced silent drive system that allows the user to train without noise. This home cross trainer has great features such as a magnetic brake and a holder for mobile devices.
Data sheet
Model: InBody Titan E1
Materiales de fabricación: Acero galvanizado
Handlebar: Acolchado con asas de movimiento de brazos
Display: LCD con indicadores de velocidad, distancia y calorías quemadas
Programas de entrenamiento: 24 niveles diferentes
Brake system: Magnetic
Flywheel: Yes
Dimensión de zancada: 43 cm
Flywheel weight: 8 kg
Posición de la rueda de inercia: En la parte delantera
Maximum user weight: 150 kg
Weight of the bike: 51,5 kg
Dimensions of the bike: 169 x 62 x 176 cm
Transmission system: Sistema de transmisión ultrasilencioso
Sistema inercial: Sistema de pedaleo de doble acción
Bottle holder: No
Transport wheels: Sí, delanteras
Mobile device holder: Device holder for tablet and mobile
Bluetooth and APPs: No
Frecuencia de uso: Hasta 30 horas/semana
Fuente de alimentación: Corriente eléctrica
Assembly (difficulty): Simple, using 3 main pieces
¿Qué dicen de Elliptical cross trainer InBody Titan E1?
2 review(s)