Elliptical bike QM 1001
bici-eliptica-QM-1001-blanco
The QM 1001 cross trainer is suitable for cardiovascular exercise at home. The dual action system works and tones both arms and legs, providing a complete workout. This model is very sturdy and offers a comfortable and safe workout.
ELLIPTICAL BIKE
perfect for fitness at home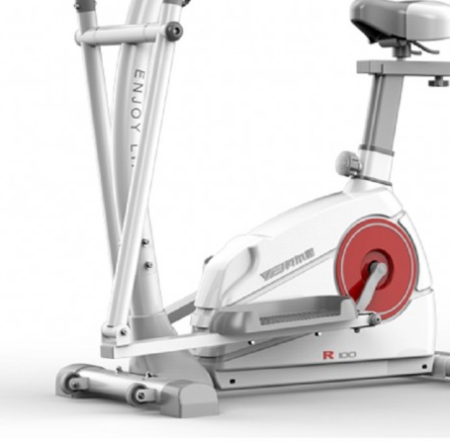 Silent
magnetic brake
This system works by means of two magnets that approach the flywheel to brake it.
Ultra-quiet
belt drive system
The transmission on this cross trainer works by belt, so it offers a silent and smooth pedalling.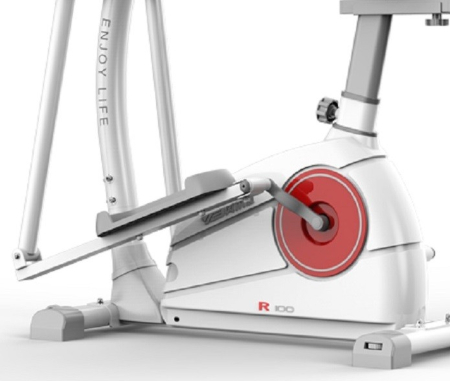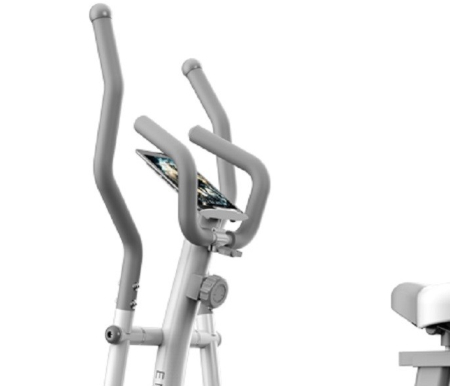 LCD screen
to monitor workouts
This screen is used to monitor speed, covered distance, time and burned calories. This is very useful for keeping track of your trainings.
The QM 1001 cross trainer is ideal for high intensity exercise at home
This cross trainer has a modern design. It is a home gym machine made with high-quality materials and a very resistant steel frame. It incorporates a magnetic brake system that makes exercise easier. It has an LCD screen to monitor the exercises with parameters such as: speed, distance, time and calories burned. In addition, the ultra-padded handlebars have an integrated heart rate monitor. This cross trainer has 8 different resistance levels and is very well equipped with accessories that provide the greatest comfort to the user, such as a padded saddle which is adjustable in height and position, and two ultra-padded mobile grip handles, plus a fixed handlebar. Pedalling on this trainer is noise-free, thanks to its ultra-quiet belt drive system. It includes a mobile device holder and transport wheels on the front of the bike.
Data sheet
Model: QM 1001
Frame:
Handlebar: Ultra acolchado con dos asas de agarre
Display: LCD display with speed, time, distance and calories burned
Heart rate sensors: Yes
Resistance:
Brake system: Magnetic
Flywheel: Yes
Pedals:
Dimensión de zancada: 40 cm
Flywheel weight:
Posición de la rueda de inercia: En la parte trasera
Maximum user weight: 120 kg
Weight of the bike:
Dimensions of the bike:
Plegable: No
Transmission system: Ultra silent belt driven
Sistema inercial: Sistema de pedaleo de doble acción
Bottle holder: No
Transport wheels: Yes
Mobile device holder: Device holder for tablet and mobile
Bluetooth and APPs: No
Frecuencia de uso:
Fuente de alimentación: 2 pilas AAA (no incluidas)
Assembly (difficulty): Easy
Dimensiones del paquete:
¿Qué dicen de Elliptical bike QM 1001?
4 review(s)